En empruntant au cinéma un terme technique pour désigner l'artifice d'une nuit tournée en plein jour, l'artiste Marc-Camille Chaimowicz et la curatrice Zoë Gray, à la fois co-autrice et objet de la fiction présentée par le duo, écrivent au WIELS (Bruxelles) les chroniques d'une exposition. Les trois corpus d'œuvres de « Nuit Américaine » présentent des processus de travail, tant artistique que curatorial. Avec la figuration assumée de Gustave Flaubert en arrière-champ, l'un des inventeurs du roman moderne cher à l'artiste franco-britannique, la proposition assume la réflexion sur l'auctorialité et le système d'écriture qui la sous-tend. L'œuvre, rarement montrée en Belgique1, présentée par le filtre de la fiction en séquences librement rythmées, challenge ainsi les binarités et les rôles des auteur·ice-acteur·ice-spectateur·ice.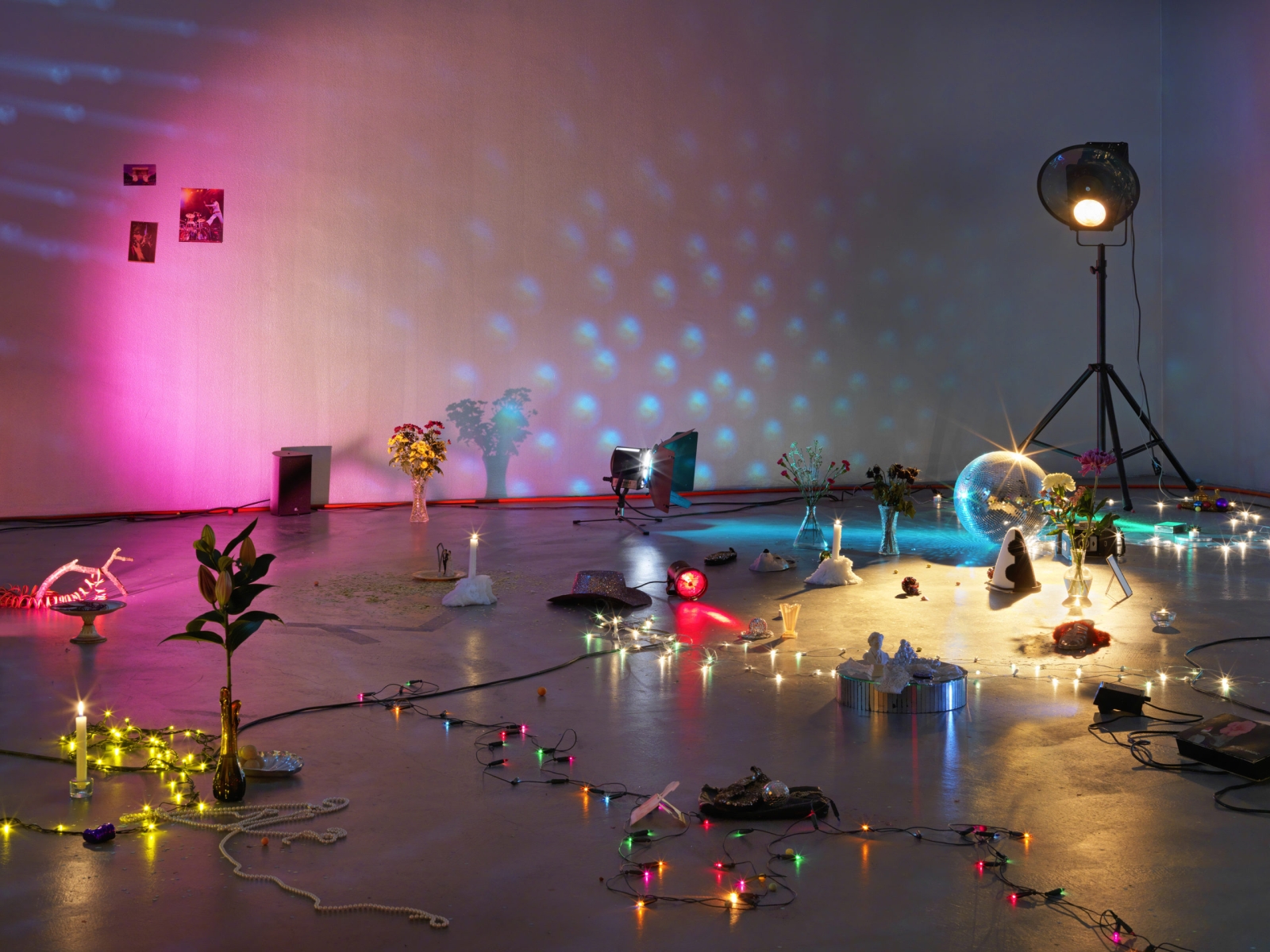 Marc Camille Chaimowicz, Celebration? Realife Revisited,1972 – 2000, Assemblage of various materials, Dimensions variable. Sammlung Migros Museum für Gegenwartskunst Photo:Stefan Altenburger Photography, Zurich © the artist
L'embarquement démarre au seuil d'un couloir sombre d'où s'échappent les sons d'une playlist rock des années soixante-dix. Entre les scintillements des boules à facettes de la première œuvre historique, Celebration? Realife Revisited (1972-2000), puis dans l'intimité frontale de la reconstitution du salon de l'appartement londonien de Chaimowicz, la « Nuit » se clôt sur un ensemble de collages récents adressés à la curatrice depuis 2019 sous forme d'échanges épistolaires. Cette dernière salle, lumineuse, fait le jour sur la présence d'Emma Bovary au sein du récit ici déployé, ainsi que sur les rouages du dispositif narratif. L'exposition est prise à rebours pour en sortir, comme un retour vers la nuit pour clore le rythme circadien. Son parcours en sens inverse affiche le verso d'un subtil décor dont l'articulation dresse une synthèse non-rétrospective d'une pratique inclassable et raffinée.

Chez Chaimowicz, tout n'est que suites d'espaces transitoires ménagés entre deux modes et entre deux mondes2 : entre l'art et la vie. Le·la spectateur·rice s'en retrouve traversé·e par un sentiment d'étrangeté et d'intimité, ballotté·e, à la recherche d'indices pour scruter, se pencher, hésiter sur le statut des objets qu'iel découvre, entre la mise en scène et la vraie vie, l'artifice des intérieurs délicatement agencés ou les restes d'une fête abandonnée. Dans l'ambiance nous évoquant celle de la Factory warholienne, Celebration s'organise autour d'une banalité bien arrangée, un agglomérat d'objets glanés, de véritables fleurs et de confettis disposés à même le sol, comme sur l'autel de la religion de l'art. Chaimowicz, qui accueillait les visiteur·euses dans les premières versions, reproduit ici une hospitalité toujours aussi plaisante visuellement. L'artiste, à l'époque encore étudiant, s'adonnait à des expériences loin de l'esthétique minimaliste alors prédominante pour mêler de façon inédite l'installation et la performance. Une telle association n'a rien perdu de son aura comme en atteste, en partie, l'exposition de Danai Anesiadou aux autres étages du WIELS. Organisée autour de nombreux biens matériels, « D POSSESSION » se déploie elle-aussi dans une scénographie énergétique, où le corps revêt autant d'importance que les objets qui le constituent, dans un cocon sans didactisme, où l'esprit de la fête libère le corps et l'esprit.
Chaimovicz n'a eu de cesse de vouloir « désapprendre » et déconstruire les divisions qui opposent le travail au plaisir, le public au privé, la présence à l'absence. Il manipule l'espace domestique, notamment celui de son propre appartement, pour nourrir l'ambiguïté sur le rôle et la production de l'artiste. Derrière toute la séduction de ses décors (marqués par la volupté des motifs, la douceur des couleurs pastel et la minutie des arrangements), Chaimovicz endosse aussi un rôle plus critique, en déviant les codes et les conceptions associés à des environnements et des techniques (textiles, artisanales) a priori plus féminines. Sous couvert d'apparats esthétiques, ses subterfuges laissent entrevoir de jouissifs détours. The Hayes Court Sitting Room, spécialement créée pour l'exposition, est l'exemple de l'une de ses natures-mortes-vivantes semant le trouble sur la représentation domestique et la performance de soi. L'installation, extraite de son salon londonien, se déploie comme le fond d'une scène théâtrale, avec la disposition de son propre mobilier présenté entre les papiers peints, les souvenirs personnels et les clins d'œil à d'autres (Eileen Grey, Rodin…). La reconstitution éphémère et subjective de l'espace de réception contourne pourtant le risque égotiste de la présentation. En juxtaposant les socles-paravents, marqués par les imperfections assumées du temps, à des photographies accrochées au verso, d'un couple mis en scène dans cet intérieur, il introduit un autre type de dialogue, multipliant les points de vue et la position du·de la spectateur·ice dans cet ensemble.

Les lettres-collages de la dernière partie entérinent l'impression du « portrait dissemblable »3 que tisse la fiction mise en scène par l'artiste. À travers les pages de magazines de mode, les dessins et les fragments de textes, l'installation de Dear Zoë fait le jour sur les obsessions de raffinement, les fantasmes érotiques et autres leitmotivs qui sous-tendent l'œuvre de bout en en bout. Véritables supports de pensées quotidiennes sur le temps et l'isolement lors de la pandémie, les compositions picturales sont denses et charmantes. Les interpellations à « Emma B. », fragmentaires, se mêlent à celles glissées en entête à la curatrice. Pour la plupart ornementés d'un cadre, les collages sont des fenêtres temporelles sur les chapitres d'une vie. La salle est construite comme un espace sensible de lecture qui libère les feuillets, installés par groupes autour des piliers, de la contrainte littéraire du récit. Dans l'installation rappelant d'autres œuvres comme Café du Rêve (1984), le sens se développe dans l'absence d'enchaînements narratifs. Elle révèle en creux certaines étapes de l'exposition. Par exemple, dans l'un des collages, les mots « réservés » et « à mettre en vente » renvoient aux préparations du salon de Hayes Court prêt à être expédié vers Bruxelles. Embarqué·e comme une caméra, le·la visiteur·euse fait l'expérience de nombreux jeux d'échelles entre les objets et les univers de Chaimowicz. Sous ses airs nostalgiques, « Nuit américaine » propose un joyeux zigzag spatio-temporel dans les enchevêtrements d'une fiction/exposition, à contre-pied de la chronologie linéaire présupposée.
---
1. Chaimowicz entretient pourtant une relation de longue date avec la Belgique, ayant participé à un festival de performances au Beursschouwburg en 1978 et présenté une exposition personnelle à Ostende (MuZEE) en 2008.
2. Selon Hubert Besacier, cité dans « Café du Rêve, un voyage épistolaire de Marc- Camille Chaimowicz », Lise Lerichomme, in : Correspondances d'artistes, du brouillon à la lettre ouverte, Marseille, Le Mot et le Reste, 2012.
3. Les mots de l'artiste dans le guide du visiteur WIELS.