Le Salon
Collaboration à la réalisation des expositions KatSalon et Le Salon invited by Almine Rech Gallery, 2016

---
Le Salon est un projet curatorial et éditorial initié par Devrim Bayar en collaboration avec Virginie Devillez et Valérie Verhack. Elles dirigent ensemble la plateforme en ligne welcometolesalon dont la mission est de présenter et de documenter l'art contemporain en Belgique et de stimuler la réflexion autour d'un sujet.

Dans le cadre du programme LODGERS au M HKA à Anvers, Le Salon a imaginé le projet KatSalon, incluant la participation des artistes François Curlet, John M. Armleder, Eric Croes, Amanda Ross-Ho et Poesivski Poeselovski.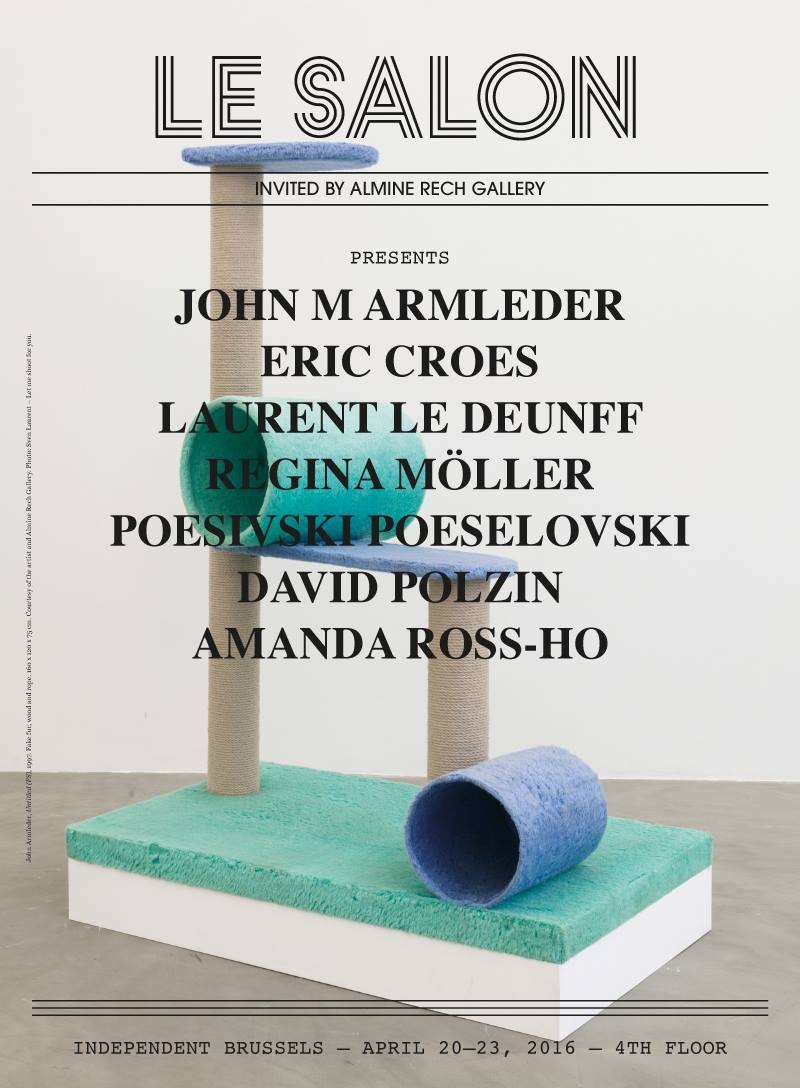 A l'occasion de la foire d'art Independent Brussels, Almine Rech Gallery invite Le Salon à réaliser une proposition sur son stand. C'est autour du motif de l'arbre à chat dont était inspirée la programmation au MHKA à Anvers (février-avril 2016) que Le Salon élabore cette exposition, incluant cette fois des oeuvres de John M. Armleder, Eric Croes, Laurent Le Deunff, Regina Möller, David Polzin, Amanda Ross-Ho, Harald Thys & Margot Vanheusden.

One of the objectives of Le Salon is to consider contemporary artworks outside of the white cube and to rethink them through a more inhabited and subjective framework. Cats are undoubtedly the most common domesticated animals in the Western world, and cat scratchers or "cat trees" occupy—sometimes with difficulty—many living rooms. Originally designed to imitate the cat's natural habitat, this artifact dialogues with the main themes of contemporary sculpture: part functional, part decorative, it is a mass-produced product with an artisanal twist, which offers an aesthetic proposal oscillating between (post)modernism and vernacular art. The cat tree questions the concept of taste and the boundaries between pop culture and high art. Combining in an original way various, often standardized elements and materials of interior design such as wood, carpeting, fabric, padding, etc., it cannot be defined as either furniture or a work of art.
---